10.04.2011 20:29 Age: 8 yrs
Category: Cara

Cara won BOB in Wieselburg
---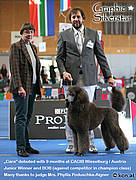 Today, April 10, 2011 Cara won BOB on the CACIB show in Wieselburg/Austria from Junior Class!
But this did not happen due to lack of comptetitors. There was a dog in Champion Class, who got CACIB. But Cara convinced the judge, Mrs. Phyllis Poduschka-Aigner.
---
Related Articles:

Oops, she did it again ... - 22.05.2011 22:01
Other news from this category:
The news are offered as RSS feed as well. Just copy and paste the link below to your RSS reader.

silverpoodle.at news