< Brighton is sending greetings
14.06.2015 00:00 Age: 8 yrs

WORLD JUNIOR WINNER !!!
---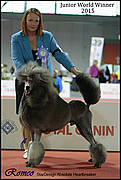 We are thrilled!!! Romeo, StarDesign Absolute Heartbreaker, won WORLD JUNIOR WINNER at FCI-World Dog Show in Milano, Italy.

We are so proud! 1000 times 'thank you' to his Finish owners Nina & Elina! Special thanks to French judge Mr. Roger Barenne, who is a member of the French Poodle Club's main board. This club is in charche of the FCI Poodle Standard.
---
The news are offered as RSS feed as well. Just copy and paste the link below to your RSS reader.

silverpoodle.at news