< Happy Birthday to all "Absolute's" :)
22.01.2015 00:00 Age: 9 yrs
Category: A-Litter, Franz

Franz' hips result !!!
---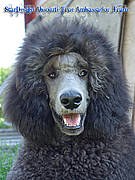 Breaking news!

We got amazing news from Sweden – SKK published the result of Franz' (StarDesign Absolute True Ambassador) hips x-ray.
He has A-hips!

We are so happy and proud about Franz. Congratulation to his owners Maritha & Kalle. The future can come!
---
The news are offered as RSS feed as well. Just copy and paste the link below to your RSS reader.

silverpoodle.at news