< Picture of Chester
03.01.2016 15:19 Age: 8 yrs
Category: A-Litter

Happy 2nd Birthday to all "Absolute's" !!!
---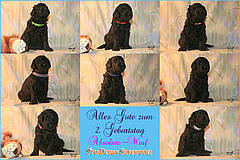 Time flies ... our sweet little babies already turned 2 years old! We love to remember the first weeks with all the happyness and fun we had together.
Thank you to all owners for being such good families for them! We are happy as breeders can be!
---
Other news from this category:
The news are offered as RSS feed as well. Just copy and paste the link below to your RSS reader.

silverpoodle.at news